Vamos United!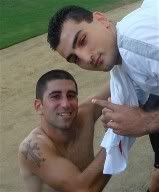 For those eagerly awaiting the continuation of the Soccer and Me series, we'll start back up next week. It's a very busy time for me - I'm organizing a canvass for Jim Webb and Andy Hurst this Saturday in my precinct, and after that, of course, is the DC United game against Real Salt Lake, for which I will be standing in the Nest for the first time. In honor of the upcoming festivities, here is a shirtless Alecko Eskandarian.
Yum!
I have a suspicion that I won't be able to see a damned thing standing, because I am 5 feet and 1 inch tall (if you spot me a half inch). But the kind woman in charge of tickets for the Nest is going to do her best for me in regard to location. Perhaps I can find something to use for a stool. Hmmm. I doubt stools are allowed so this would require some creativity. Suggestions, anyone?
P.S. Real Salt Lake is a stupid poser name for an American team!