Vive Zizou, Our Zizou.
I am so very sad for Zinedine Zidane. By rights the story should have been that he won the World Cup for France. By rights the Italian goalkeeper should not have made that spectacular save in extra time: Zizou's header should have blasted into the goal and kissed the back of the net, instead of being tipped over the crossbar. A wonderful save for which Buffon deserves full credit, but it ruined the narrative. By rights a final should never be decided on penalties. No, by rights this should have been Zinedine Zidane's night, his trophy, his tournament, a final sendoff in grand fashion.
Instead we got a sendoff of another kind, for violent conduct. In the second period of extra time, Italian defender Marco Materazzi twisted Zidane's nipple while they were jockeying for position. The two players had words, and then, trotting round to the front of his opponent, Zidane sent him to the turf with a headbutt to the chest.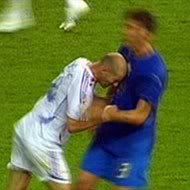 I don't know what could have been said to Zidane to make him lose his temper so. There's much speculation it was something racist. Of course when he headbutted Materazzi he had to be sent off. There was no question as to that, and from him no argument - he gave up his captain's armband and walked off the field toward the dressing rooms, right past the trophy, peeling the sweat bands off his wrists and looking at the ground.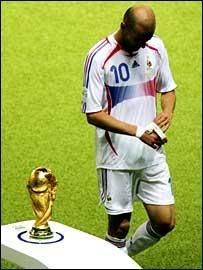 There are many who are angry with him, so very angry for what must be meant by the words "bringing the game into disrepute" - they are angry with him for depriving France of his skill on the field in those last minutes, and of his skill at the penalty mark in the shootout to come. They are angry with him for depriving us all of his greatness for those last ten minutes, because we will never know what he might have been able to achieve. He cheated us, shorted us those last precious minutes, even as he shorted himself. They are angry. And they say he will not be remembered for his greatness, but for this moment of weakness, of petty thuggish violence.
It's not true. It has been 20 years since Diego Maradona was at his prime, and 12 years since he was sent home from the World Cup in ignominy for doping, yet people still remember the greatness of Maradona. They remember him as a controversial and colorful character, a cheater, and yet they remember him for his greatness. They will remember Zidane for his greatness too. They will remember him as being something more than Maradona ever was, belonging to the world at large in a way that Maradona never could. Our Zizou never had to punch a ball into a goal with his fist to give France their first World Cup trophy in 1998. He did it with his feet and head and heart, and he gave us the jogo bonito as it should be once again in 2006 - he thought he was finished, but he found he was still needed and he could not walk away. Though we regret the asterisk that marks the end of his career, his courage and his skill and his beauty and his greatness will be the things we remember of him. Vive Zizou! Vive Zizou, our Zizou.